The final five! Thanks to everyone who's been reading this list :)
---#5---
Ringo Shiina - Shoso Strip
(Japanese pop/rock)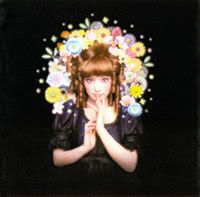 Before she went on to form the awesome jazz-funk group Tokyo Jihen, Ringo Shiina carved out a very respectable career as a solo artist. Her debut,
Shoso Strip
, is everything a great pop/rock album should be - exciting, exuberant, creative and very, very catchy. Ringo Shiina's powerful, emotionally-charged vocals are a wonder to behold, and the little experimental tweaks in the instrumentation keep things vibrant and interesting throughout, making these 13 tracks pass a lot faster than you'd expect from the album's near hour-long runtime. The surging finale is a major highlight, but nothing can compare to "ギブス" (aka "Gips"), whose chorus is so uplifting it should lift the roof off your house.
---#4---
Comets on Fire - Comets on Fire
(psychedelic-rock, garage-rock, noise-rock)
Comets on Fire's self-titled debut album is a riotous storm of psychedelic garage-rock, layered with huge, fuzzed-out riffs that are played hard and heavy, effects pedals left, right and centre, and vocals so raw and rocking they'll shred your speakers apart. When it comes to pure, floor shakin', foot stompin', air guitarin', jumping-around-like-a-madman hard-rock bliss, there's few albums that deliver on such a high level. It's the sort of music that inspires you to want to play it in your car with your windows down and the volume up, despite the knowledge that people who do this look a bit silly. It's not exactly a
complicated
album, but believe me when I say it's a hell of a lot of fun.
---#3---
Deltron 3030 - Deltron 3030
(hip-hop)
Futuristic geek-hop that constantly delivers the goods, thanks to Dan the Automator's kick-ass production, Del tha Funkee Homosapien's stoned-out delivery, Kid Koala's expert turntablism, a series of A+ guest appearances and the huge number of SF/tech/geek references littered throughout the album (Microsoft, William Gibson and mecha all get mentions, to name just a few). Most of the songs establish various overarching details of the album's futuristic setting, however there is a loose story running throughout - Del plays a freedom fighter battling the galaxy-wide regimes of a dystopian future while participating in a series of intergalactic rap battles. This plotline is tied together nicely via a sequence of entertaining snippets and interludes, which drive the narrative forward and infuse the album with a feeling of real cohesion. It's absolutely one of the decade's best albums, and sets the bar impossibly high for its oft-delayed sequel.
---#2---
Jackie-O Motherfucker - Fig. 5
(free-folk, americana, improv)
On
Fig 5
, Jackie-O Motherfucker take an overtly exploratory approach to the soulful twang of Southern folk and Americana, in which their improvvy, jam-band stylings are driven along by multiple guitars, touches of banjo, varying percussion, harmonica, free-jazz and even some sparse sampling. Their takes on traditional classics "Amazing Grace" and "Go Down, Old Hannah" are filled with real warmth and beauty, while "Your Cells are in Motion", with its propulsive rhythm and looping guitar lines, is a personal favourite. It's refreshingly unique and utterly captivating stuff - a strikingly original album which is by far one of the best I've heard this decade.
---#1---
The Microphones - It Was Hot We Stayed in the Water
(lo-fi, experimental, psychedelic-pop, folk, noise-rock)
Warm, lo-fi instrumentation, intimate vocals, incredibly creative songwriting, some delightful guest-appearances by Mirah (who featured earlier on this list) and downright exceptional analogue production wizardry by head-Microphone Phil Elverum all come together flawlessly to make this aquatically-themed effort the best Microphones/Mt Eerie album (yes, I think it's better than
The Glow, Pt 2
), the best album of the year 2000, and, at time of list-making, a top-5 contender for my favourite album of the decade. It stands as an ecclectic tapestry of sonic concepts that constantly evades easy categorisation no matter how much you try to pigeonhole it, and is utterly emotionally gripping to boot. There are no fewer than five tracks here that I'd put on a "Best Songs of the Decade" shortlist, and "The Glow" - the album's utterly magical centrepiece - is one of about three songs I'd consider for the #1 spot.
It Was Hot We Stayed in the Water
is simply a marvel, an album that's hugely appealing not only as an inviting work of deeply human art, but also an awe-inspiring network of musical ideas to deconstruct and examine. On either one of those levels, very few albums can match it.