ZOMG we've reached the Top Ten!
---#10---
Ghostface Killah - Supreme Clientele
(hip-hop)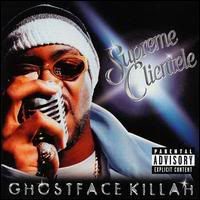 Perhaps moreso than any other hip-hop album I've heard,
Supreme Clientele
sounds like a
spectacle
. The production is robust and attention-grabbing, with sampling that hits like a Mack truck, while Ghostface's emcee work is punchy, rapid-paced and utterly commanding throughout, giving the whole production a real sense of being larger than life. Just check out the explosive, widescreen openings to songs like "Nutmeg" and "Apollo Kids" - it's not uncommon for rappers to open up a song sounding like they're ready to conquer the world, but rarely do they sound like they're going to do it so
effortlessly
.
---#9---
Amon Tobin - Supermodified
(drum 'n' bass, electronic-jazz)
The opening three tracks on Amon Tobin's third work of electro-jazz are the best thing he's ever recorded, with "Get Your Snack On" burning up the floor, "Four Ton Mantis" adding some cool funk and "Slowly" bringing it all back down again for some wonderful smooth grooves. It sets the bar almost unrealistically high for the rest of the album, but throughout
Supermodified
Tobin proves time and again that he's up to the task, resulting in one of the decade's best and most creative electronic albums.
---#8---
Alamaailman Vasarat - Vasaraasia
(prog-rock, metal, hard-rock, klezmer, experimental-rock)
Vasaraasia
is downright mind-boggling - prog-rock meets avant-garde meets klezmer meets metal meets whatever-else-they-could-squeeze-in, making for one of the coolest, strangest hybrids I've heard in a long while. At times this is darkly subdued, moody and kind of noirish, and then the heavy guitars surge in and the album starts to completely rock out, conjuring up images of rabbis with flying-v guitars, playing their own unique brand of ... I don't know ... jewish-metal? It's absolutely mental, but it's also staggeringly original and really, really great.
---#7---
Electric Wizard - Dopethrone
(stoner-metal)
An exceptionally cool album of Sabbath-worshiping doom-metal that rocks slow and hard, and is so completely stoned out of it's gourd the band members could probably hardly stand up while they were recording it. If you find something appealing in the idea of music where the guitars are so ridiculously down-tuned that they'll drill you into the ground through the sheer power of bass alone, then
Dopethrone
is most definitely the album for you. It's just deliciously
evil
music - like wading through a vast expanse of hellish muck, only to be bludgeoned to death with a gigantic electric guitar. Only, you know,
in a good way
. This last bit probably goes without saying, but it needs to be heard with both the volume and the bass way up.
---#6---
Common - Like Water for Chocolate
(hip-hop)
Like Water for Chocolate
contains some of the more intellectual, thought-provoking hip-hop I've heard, not just because it contains "serious" content, but also because Common has an incredible knack for structuring and delivering his lyrics in a manner that makes them stick, over and over again. Just check out this line from "The 6th Sense" - "I'd be lying if I said I didn't want millions / More than money saved, I wanna save children / Dealing with alcoholism and afrocentricity / A complex man drawn off of simplicity / Reality is frisking me" - just one excellent snippet from an album full of them. What's more, his flow is amongst the smoothest, mellowest and most charismatic I've had the pleasure of hearing. This is a standout album that's got a decent chance of appealing to non hip-hop fans as well as those who dig the genre.