---#25---
Dirty Three - Whatever You Love, You Are
(post-rock)
Whatever You Love, You Are
, the fifth album by Australian veterans The Dirty Three, is a fantastic work of sorrowful post-rock. The rough, emotive strings are as moving as ever before, making for a sextet of songs that leave an emotional imprint on the listener like a punch in the gut. Above all else, though, the 13 minute centrepiece "I Offered It Up to the Stars and the Night Sky" is a thrilling piece of music that's nothing short of extraordinary.
---#24---
D'Angelo - Voodoo
(soul, r&b)
Voodoo
, the long-delayed sophomore effort by D'Angelo, is a wonderful melange of silky vocals, bubbling basslines and sensual grooves, the whole production cloaked throughout in a dreamy, smokey haze. I've long held the album's big single "Untitled" as a major personal favourite, with its undeniable passion and truly spine-tingling finale - it effortlessly ranks amongst the year's very best songs.
---#23---
Gaiteiros De Lisboa - Dançachamas
(Portugese folk)
Gaiteiros De Lisboa play a vaguely Celtic-sounding form of Portugese folk music, and as far as I can tell this album sounds as though it was recorded at a live performance. There's plenty of passionate, chanted vocals, with some amazing pipe sections dominating the instrumentation. Speaking of which, supposedly these guys play using custom-crafted instruments, adding to their unique sound.
Dançachamas
is simply one of those discoveries that's taken me into completely unfamiliar territory, and it's really quite breathtaking.
---#22---
The Letter E - No. 5ive Longplayer
(instrumental, post-rock)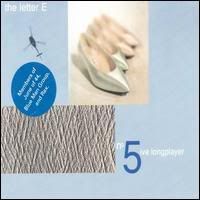 An album of precisely played and inofensively pretty instrumental pieces, that layer intricate acoustic guitar lines over mellow percussion, along with unobtrusive selections of brass, cello and accordion. The guitar playing here is always impressive, utilising complex time signatures ("Alushta", for example, alternates between 7/4 and 12/4) and frequently employing several separate melodies that weave their ways around one another to form a dense and cohesive combination, one which impressively balances being both fascinating and endearing to the listener.
---#21---
Tin Hat - Helium
(chamber-folk)
On
Helium
, instrumental trio Tin Hat draw their inspiration from a wide variety of styles - including tango, flamenco, bluegrass, classical, jazz and blues - and channel them through their own chamber-folk style. By doing so, they come up with a generous helping of exquisitely and expertly played genre reinventions, which allow the listener to experience a fresh perspective on some well-covered territory. Adding in a Tom Waits guest vocal on the closing track is the icing on the cake.